Table of contents:
Currently, we use Google Calendar to import your Brightspace assignments (contained in your Brightspace calendar feed URL link - described below) into Shovel.
This guide assumes you are already logged into your Brightspace (D2L) account and that you have a Google account.
BRIGHTSPACE LINKS
Get Calendar Feed Links For Each Course
1.1. On the homepage of Brightspace, navigate to "Calendar"
1.2. Click on Settings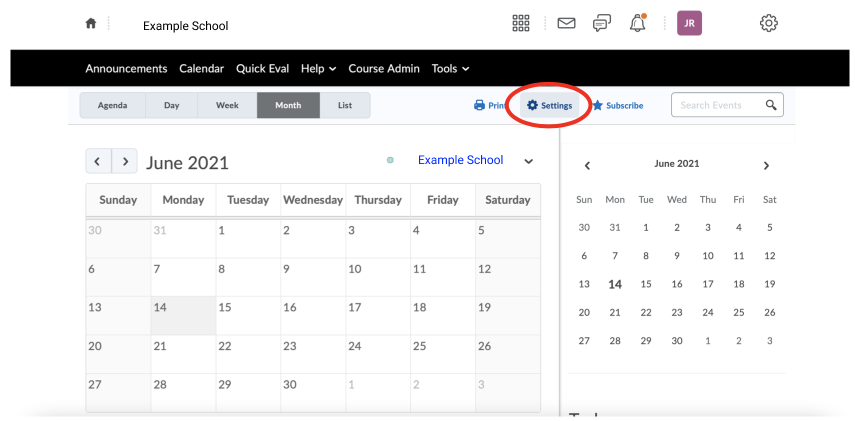 1.3. Enable Calendar Feeds (needs to be checked)
Make sure "Enable Calendar Feeds" is checked.
Press Save.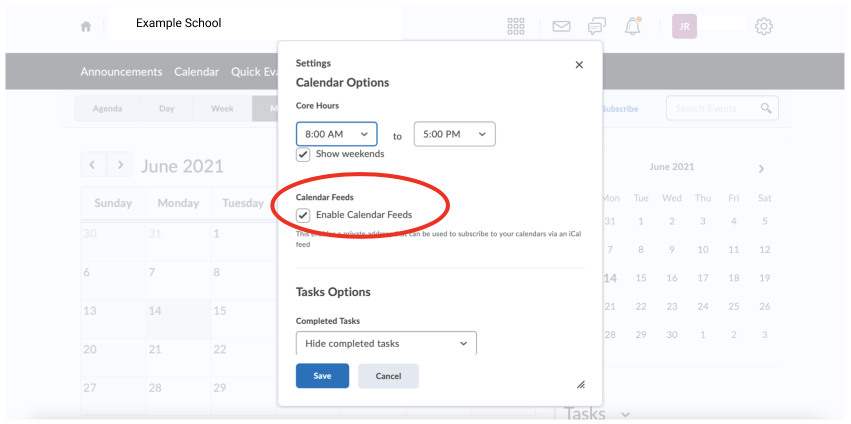 1.4. Click "Subscribe"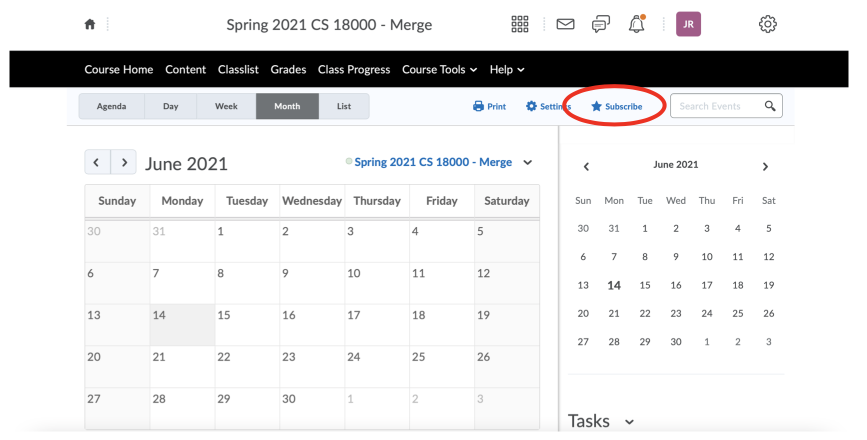 1.5. Select Course in Dropdown
Make sure you select the right course.
Please make sure you select ONE course and DON'T import ALL Courses at the same time. That way Shovel can determine what course your tasks belong to.

1.6. Copy Link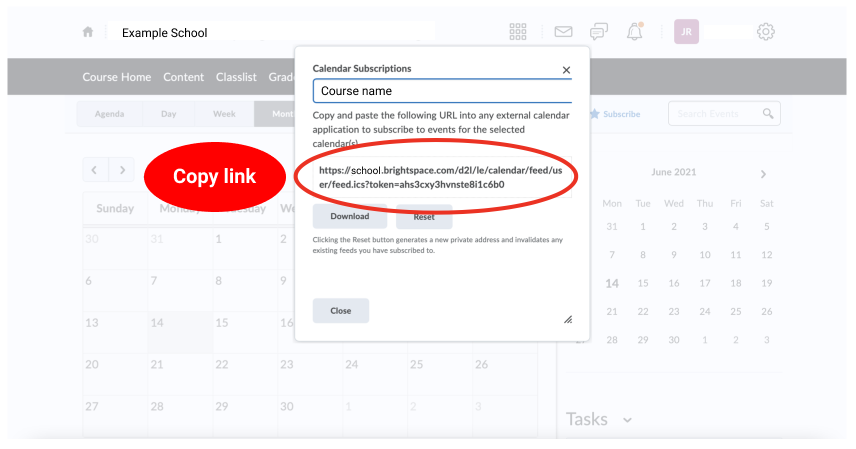 ADDING LINKS TO GOOGLE
Add Brightspace Links to Your Google Calendar
2.1. Open Your Google Calendar
If you do not have a Google Account yet, create it here.
2.2. Click "+" next to "Other Calendars"

2.3. Select "From URL"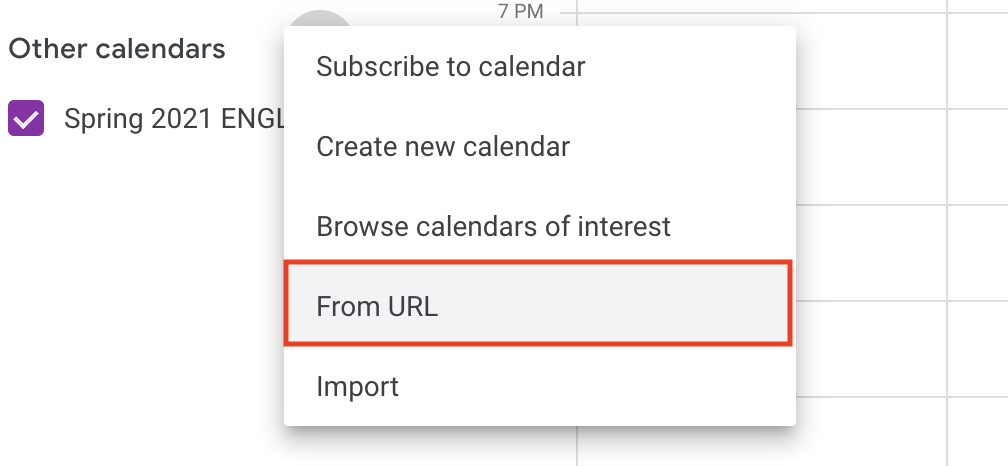 2.4. Paste the Brightspace URL into Google Calendar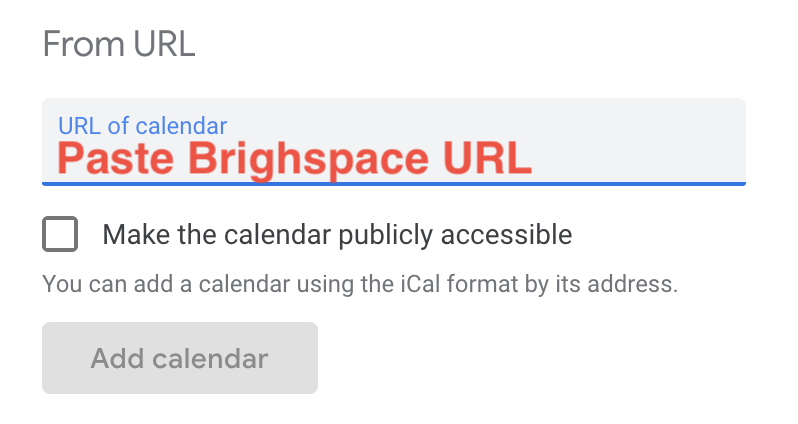 2.5. Press button "Add calendar"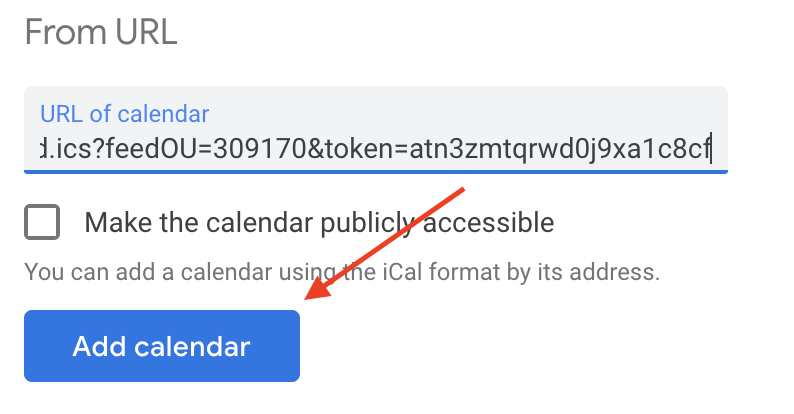 After this step, your new calendar will appear in the left sidebar.
You can go back with the arrow in top left.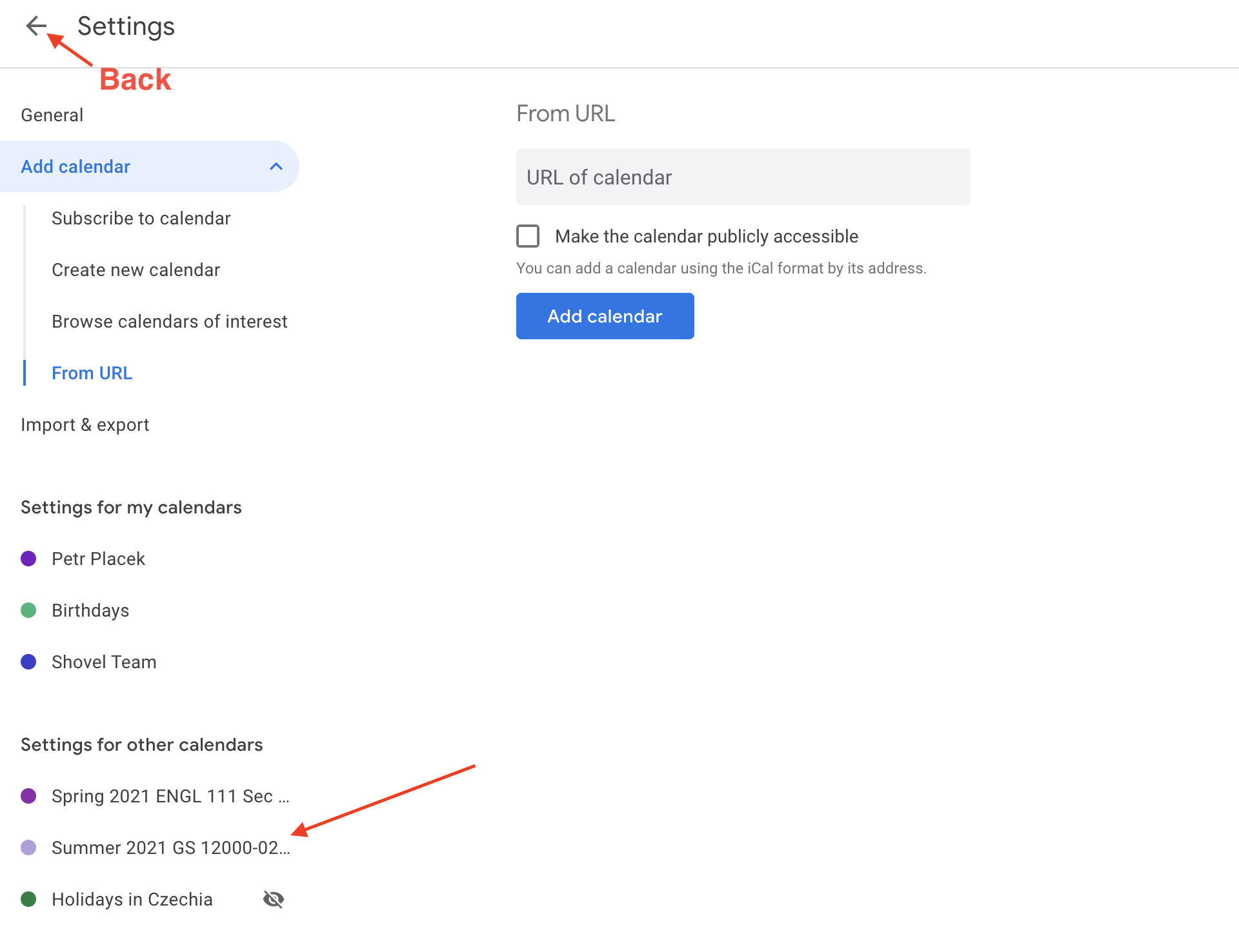 2.6. Repeat steps to add each individual course from Brightspace into Google Calendar
Add all the courses you will be taking this term
2.7. To rename added calendar (Optional)
Find 3 dots when you hover the calendar in the left sidebar.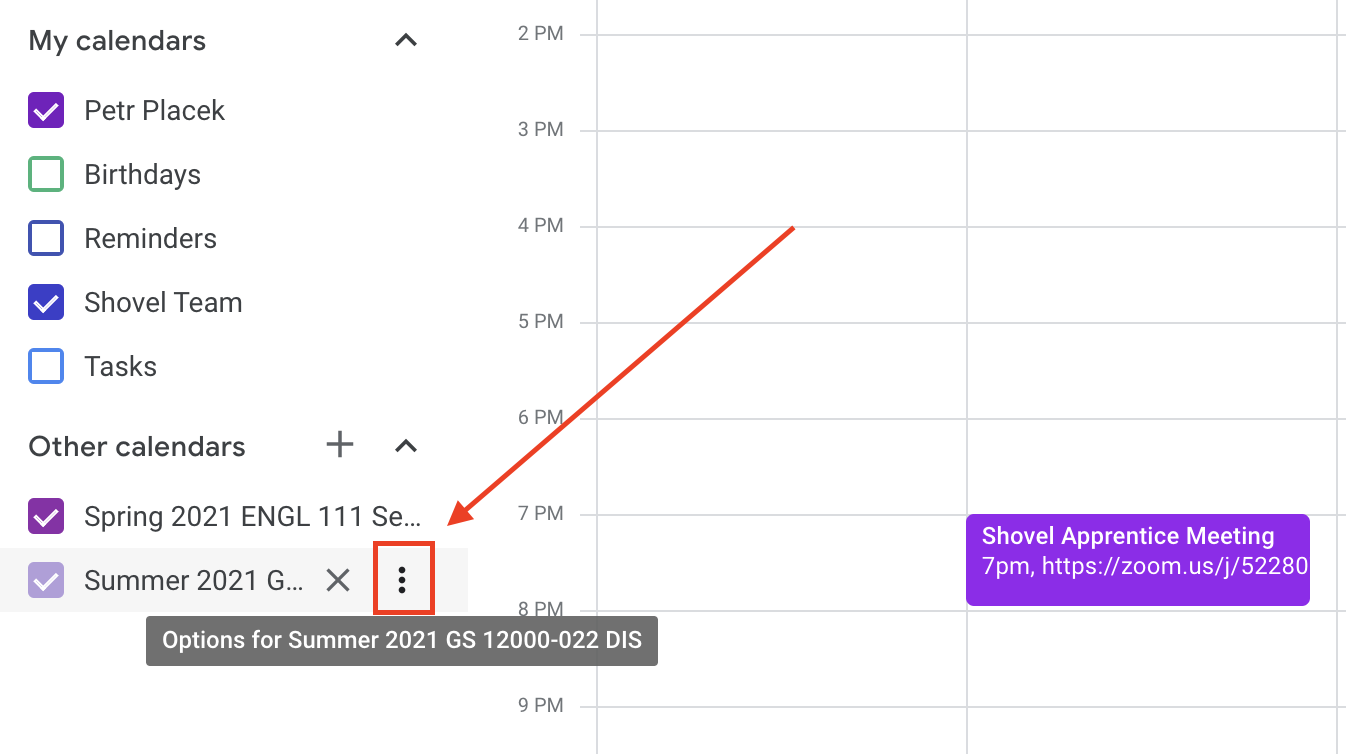 Select Settings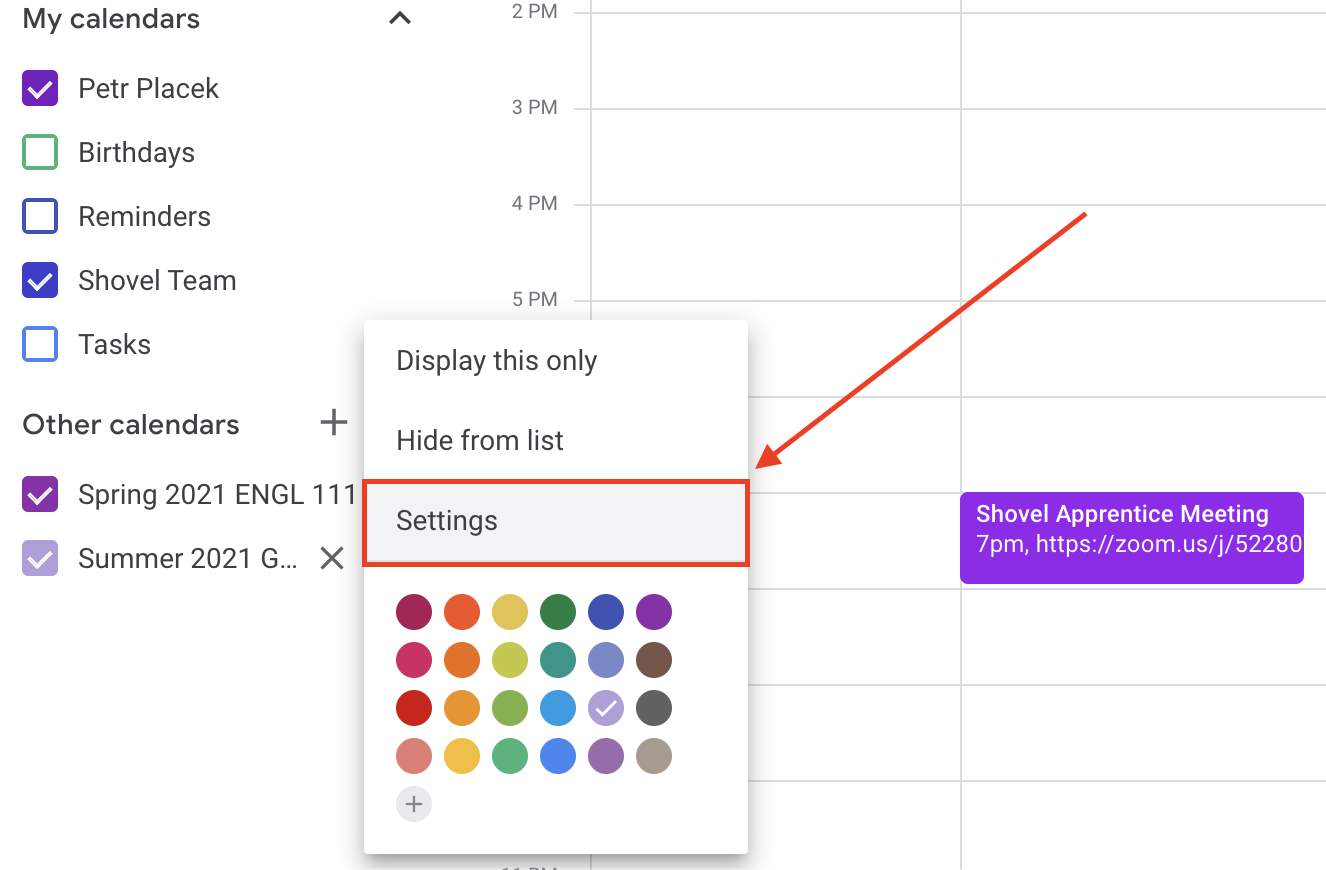 Rename
Now that you added all your Brightspace courses into your Google Calendar (one by one), you will be able to link each specific "other calendar" in Google to a specific course in Shovel.
LINKING COURSES TO SHOVEL (new term)
Linking Brightspace courses (via Google) to courses in Shovel
3.1. Open Shovel
Login to your Shovel account.
If you do not have a Shovel account yet, create it here.
If you're already inside Shovel and have an existing term, skip steps 3.1 - 3.9 and learn how to link Google Calendar to an existing course in Shovel
here
. Then go back to step
4.1.
to categorize your tasks.
3.2. If you're new to Shovel or if you are creating a new term in Shovel, follow steps until you get to "Courses"

3.3. Click "Add course from Google calendar" button

3.4. Choose your Google Account (if you have multiple)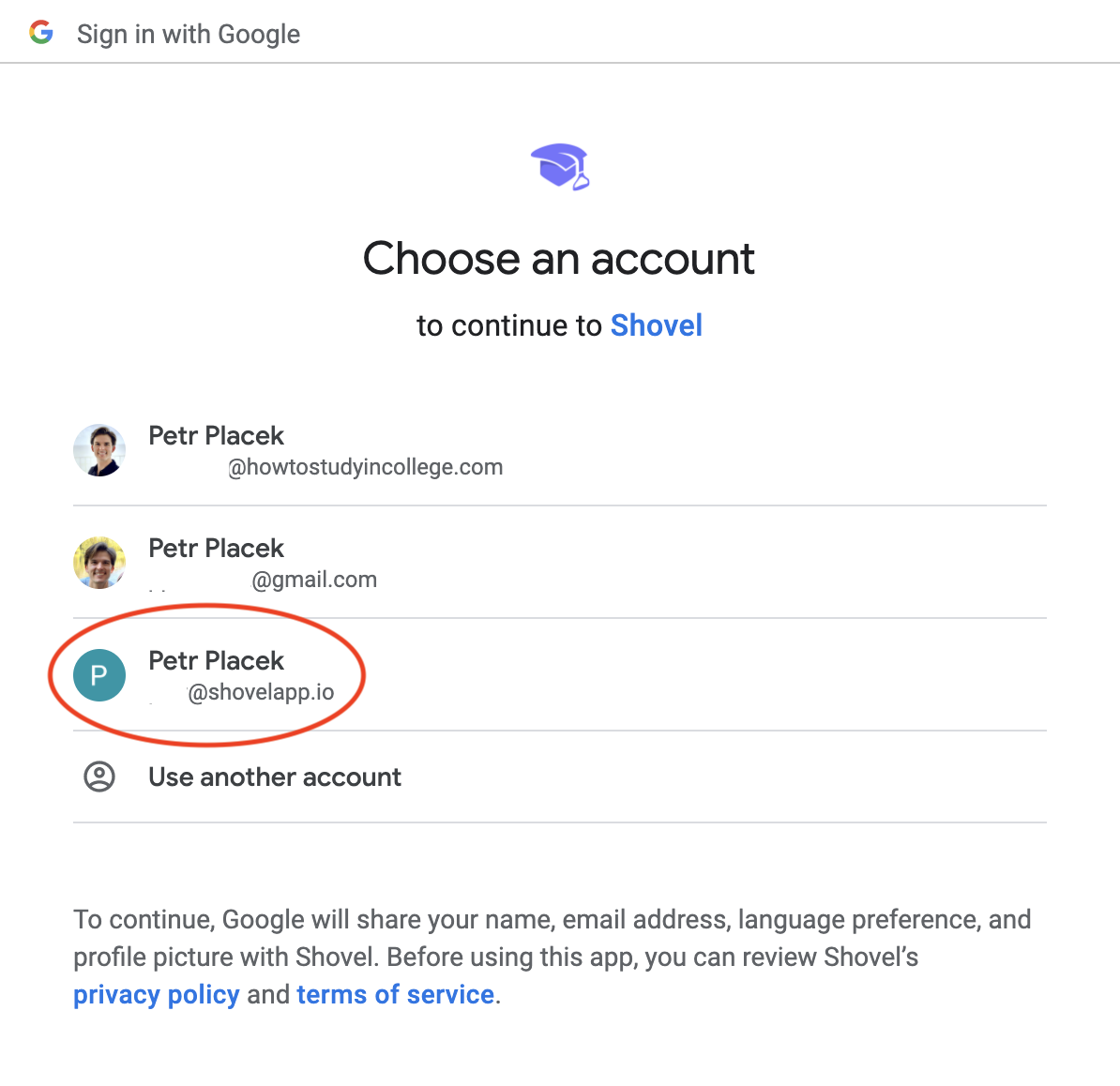 3.5. Press Allow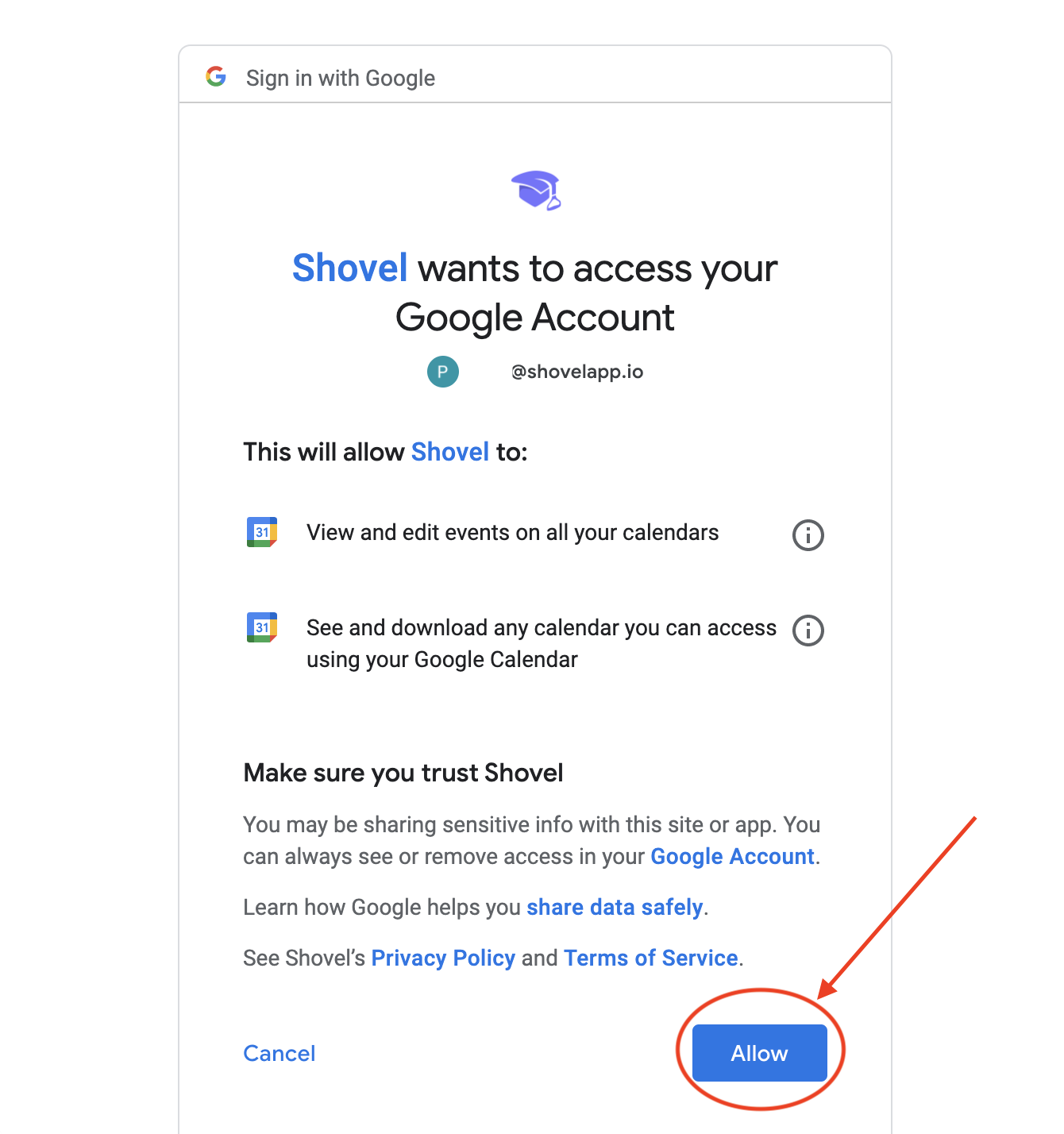 3.6. Select the courses you are taking this term (the ones you added from Brightspace)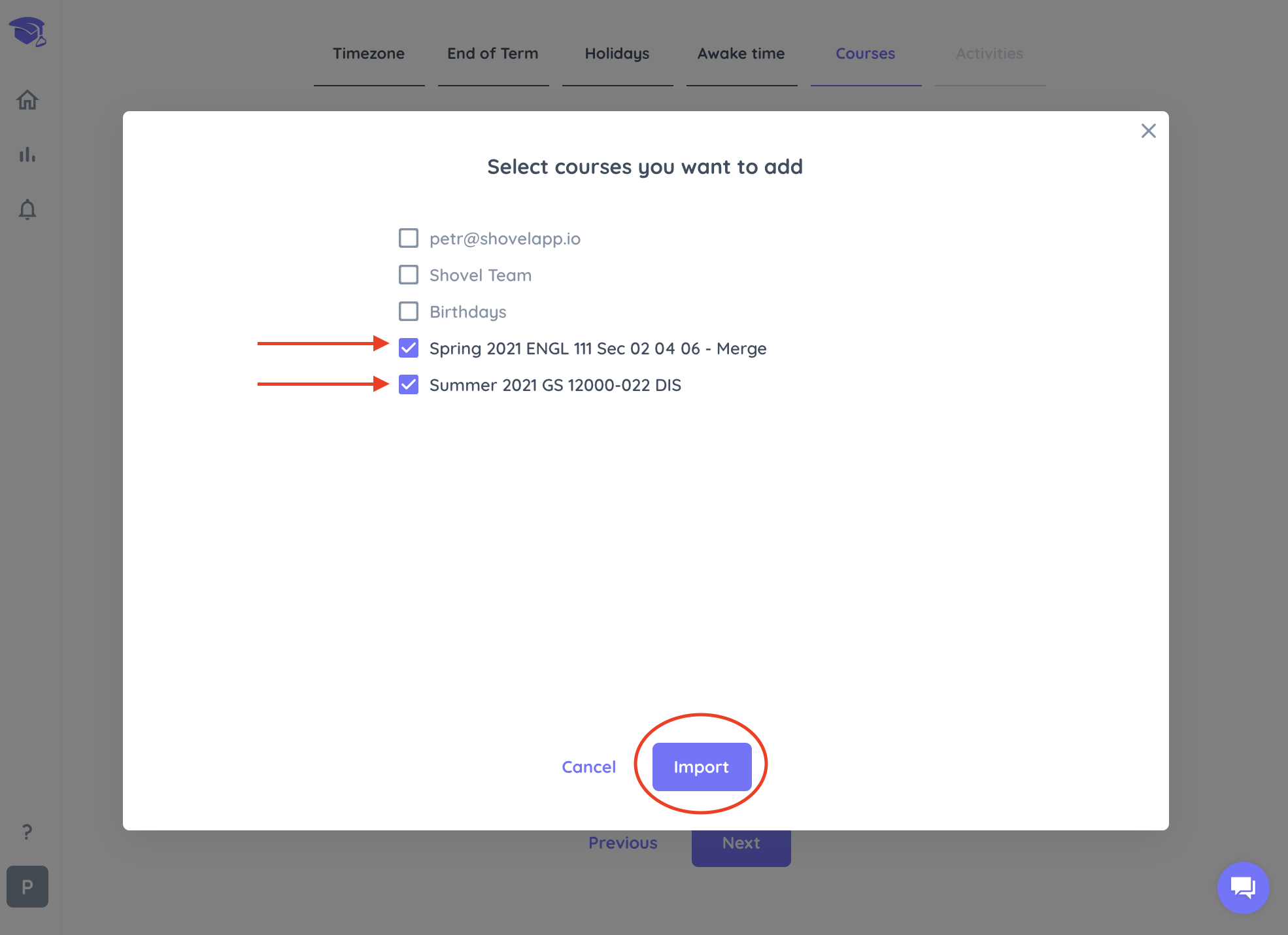 3.7. Change color (Optional)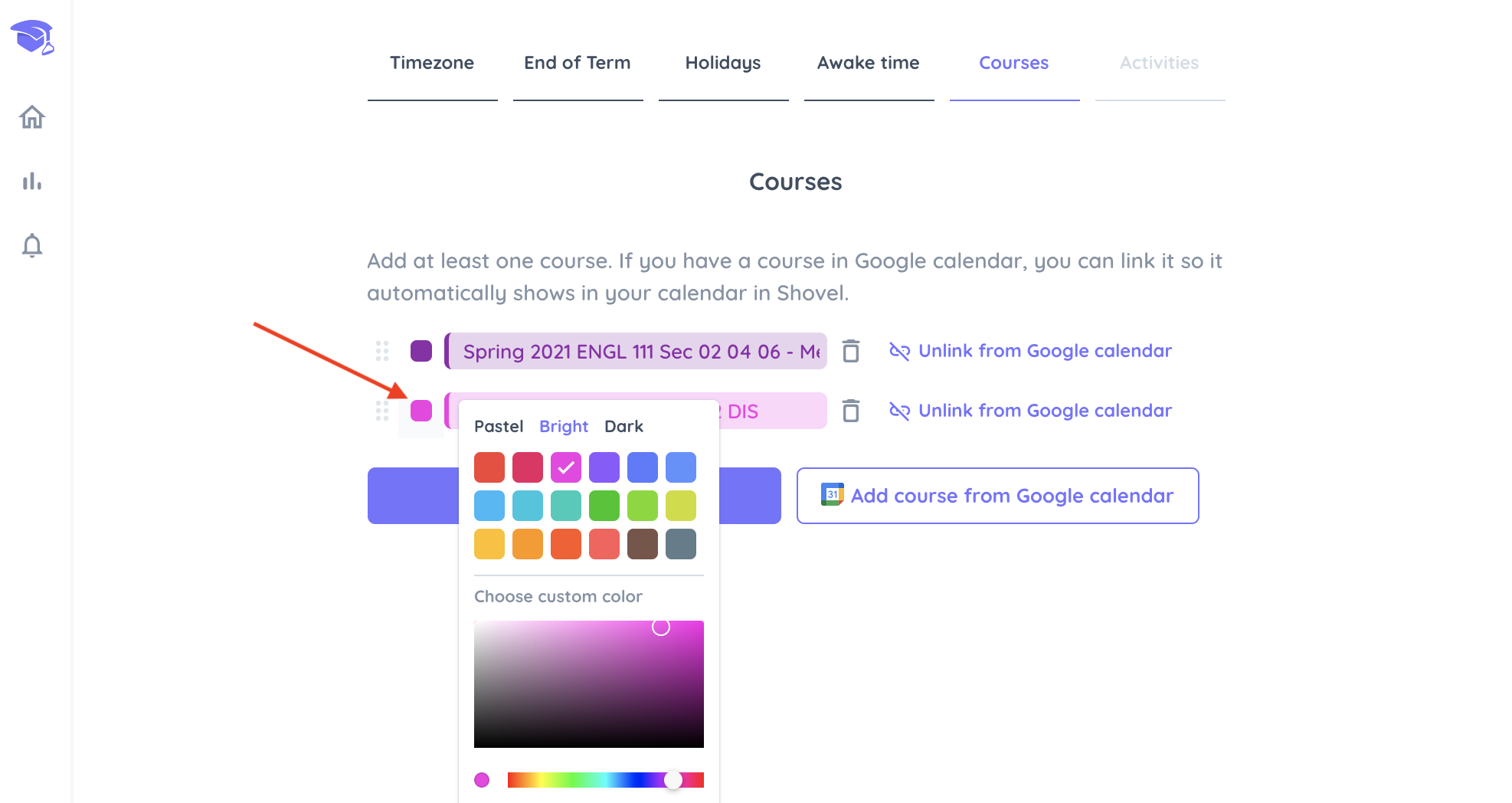 3.8. Shorten course names (Optional)

3.9. Press Next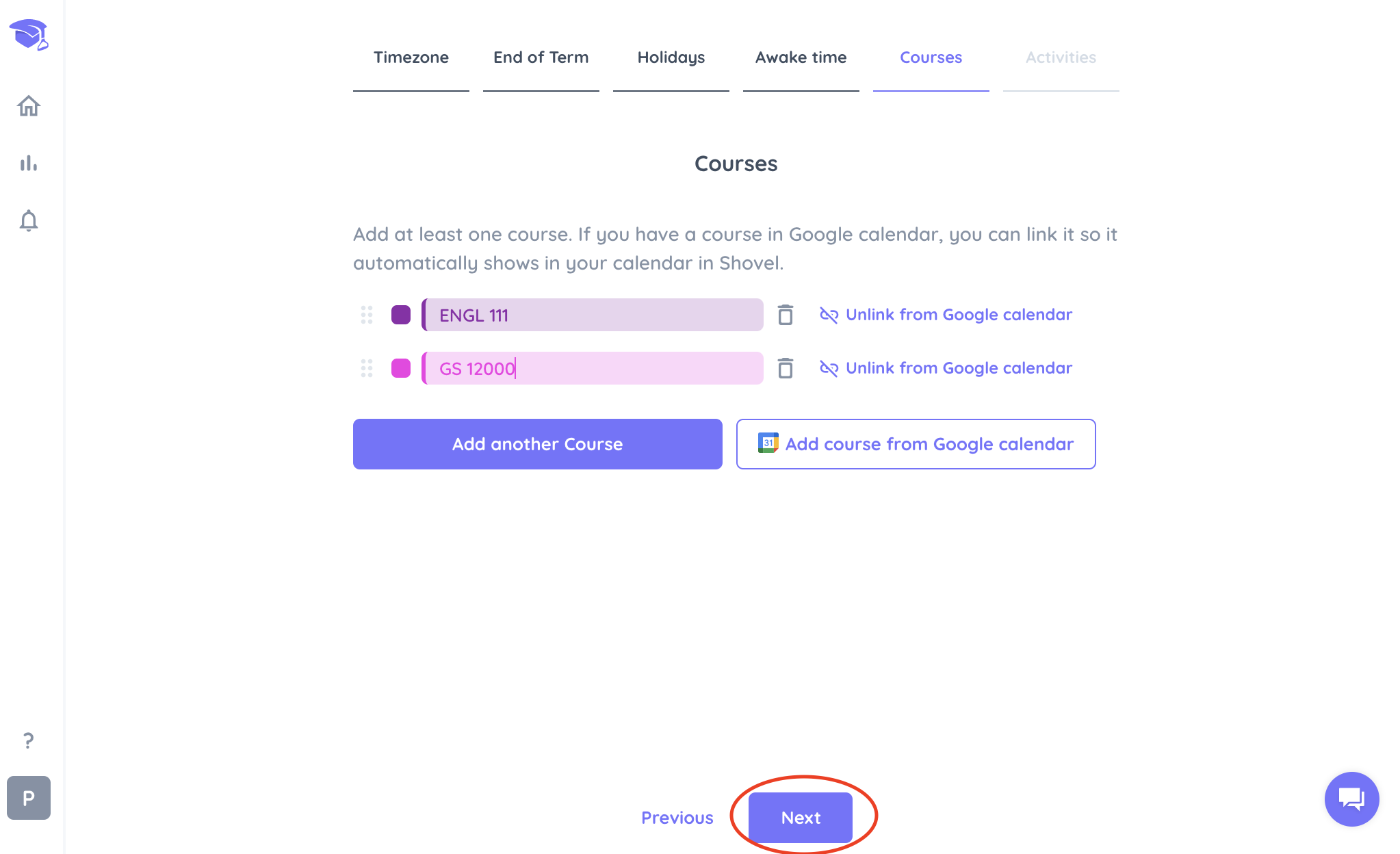 RECAP
You created a Google account if you didn't have one
You added a calendar feed URL of each Brightspace course into Google calendar
You added individual calendars (courses) from your Google Account into Shovel
BENEFITS
Shovel will be able to Show your Brightspace assignments (if your professor put them in) as tasks inside Shovel.
That way you do not have to create your tasks manually inside Shovel.
The link to your Brightspace course is live, which means that if your professor makes a change, you will see it in Shovel (within 24 hours).
NEXT STEPS - Organize your imported tasks in Shovel
4.1. Navigate to "Task List"

4.2. Select course in the sidebar by clicking on it (Your imported courses will show here)

4.3. Your imported tasks will show in the task list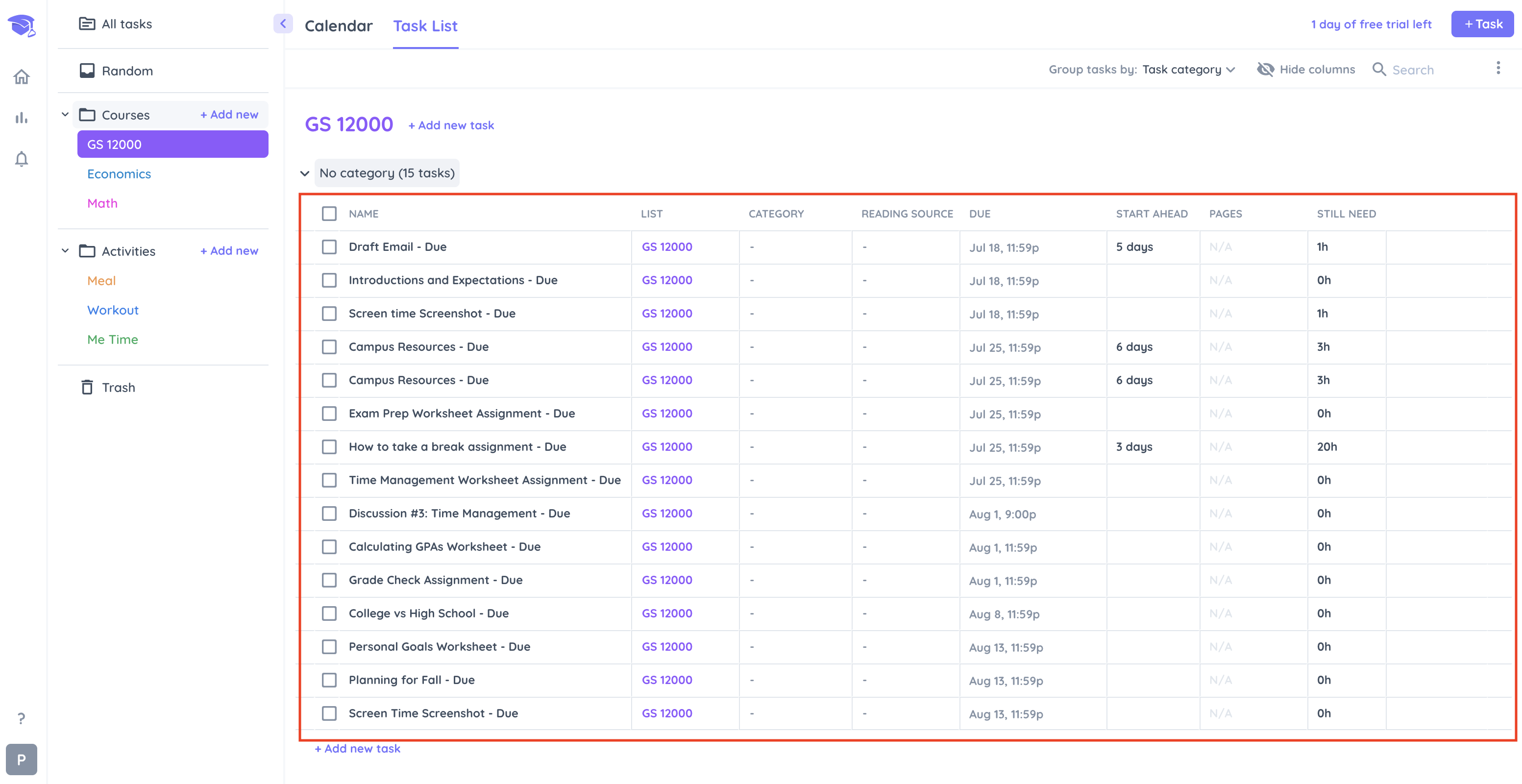 4.4. Select Similar Tasks And Use "Action Bar" to Organize Them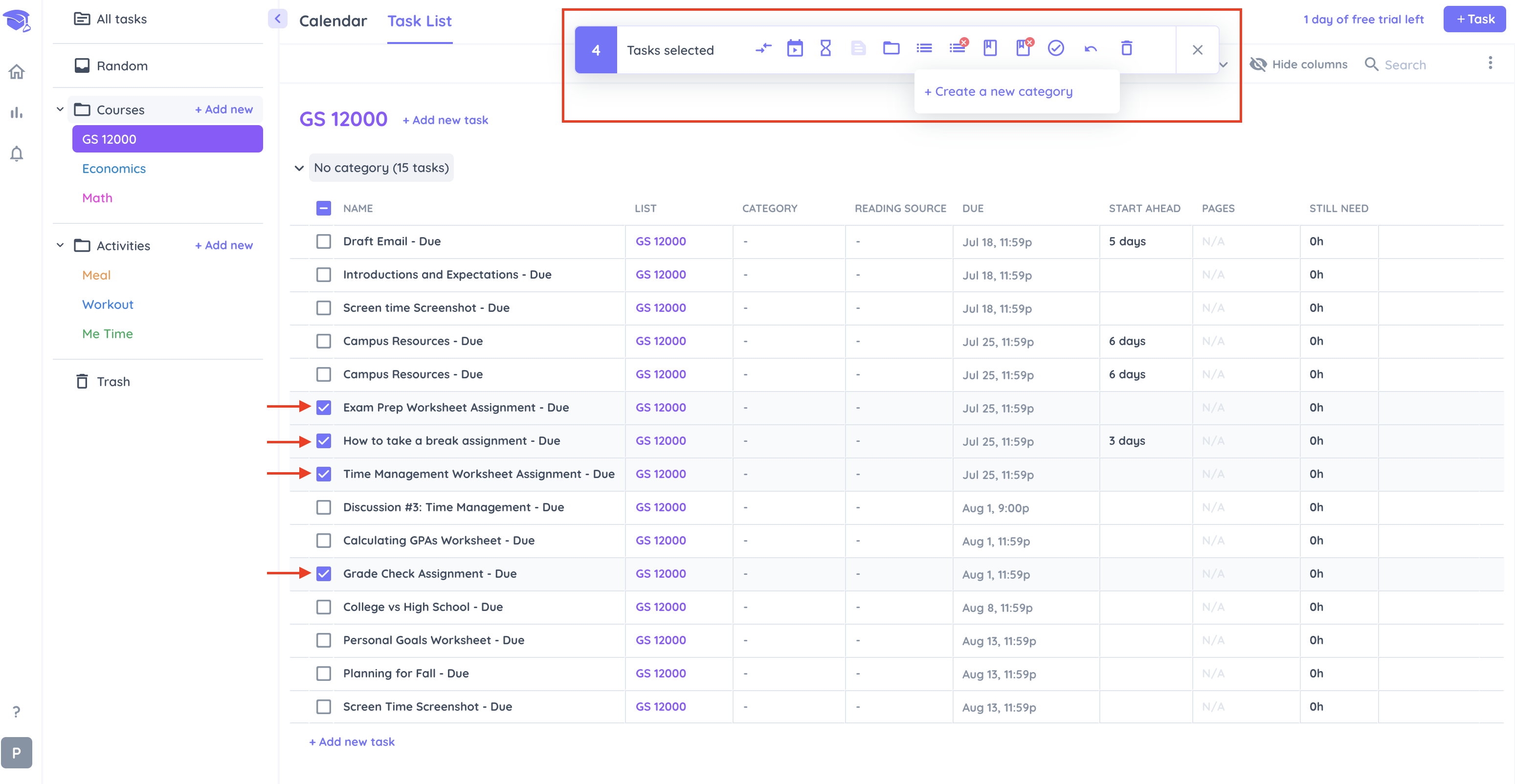 GET ORGANIZED
The 4 things you should do to get your tasks organized
5.1. Categorize each task
If you have similar tasks. For example: if you have 5 quizzes, create a category called "Quizzes." Change the emoji for that category. Attach all 5 quizzes to the category.
Helpful tip: Use the search function in task list to filter out similar tasks. Select them all and add them to a category all at once.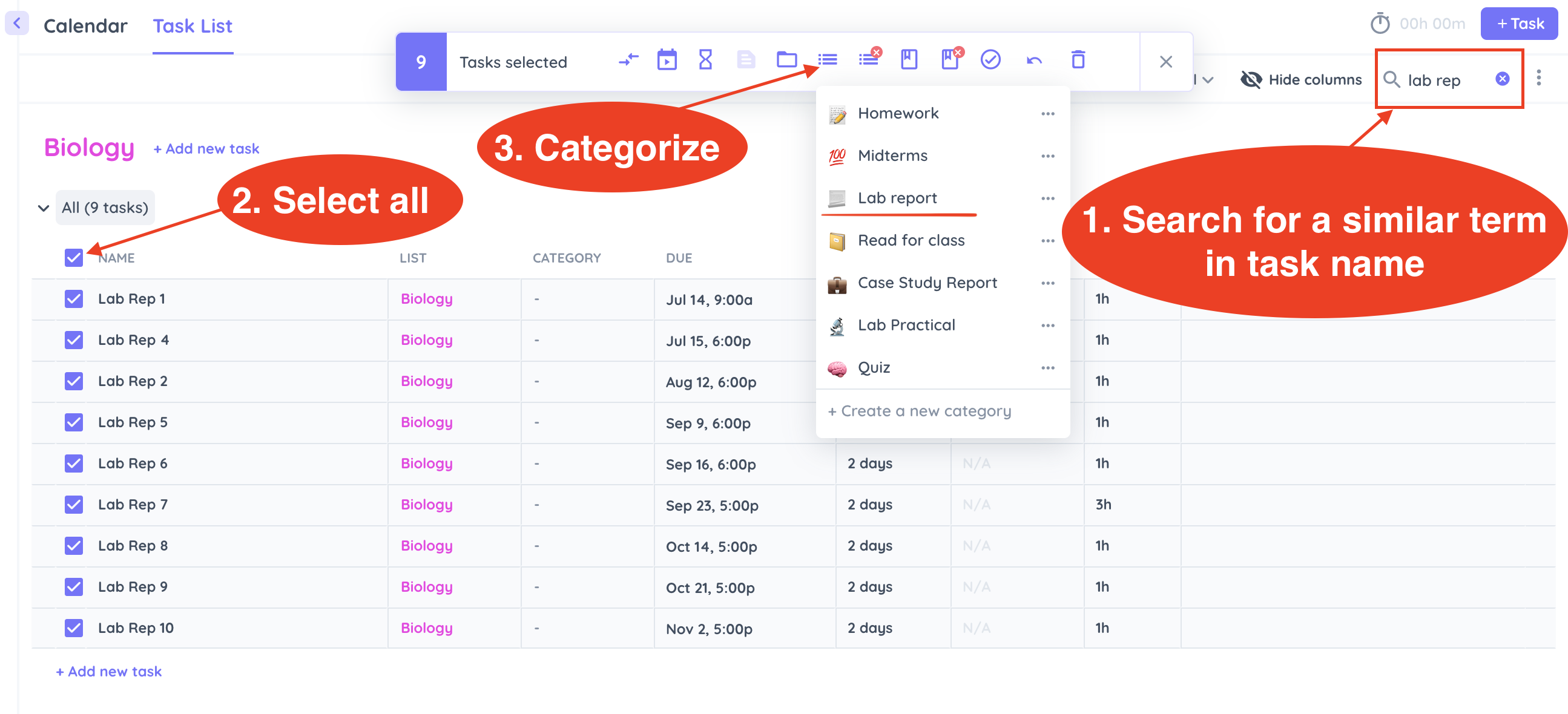 5.2. Set "Start Ahead" for each task.
Do this based on category as similar tasks will have similar traits. Here is why in a 1-minute video:
5.3. Estimate each task
Estimate how much time you'll need to finish each task. Do this based on "category" since similar tasks will require a similar amount of time. Here is why in a 1-minute video:
5.4. Add reading sources, time per page, and the number of pages you need to read for each reading task.
Chances are you'll have to complete a lot of readings.
Identify each reading task (you can categorize it as "Read for class")
Figure out what you'll be reading from (Chemistry Textbook, Novel, PDF, etc). Create a "reading source" for each. You're doing this so Shovel can calculate how much time you'll need for each reading task based on how long it will take you to read 1 page in a particular reading source (Textbooks read slower than novels).
Enter how long it will take you to read one page in each reading source (estimate at first, you can adjust it later).
Enter how many pages you need to read for each reading task and Shovel will calculate how much time you'll need for that task.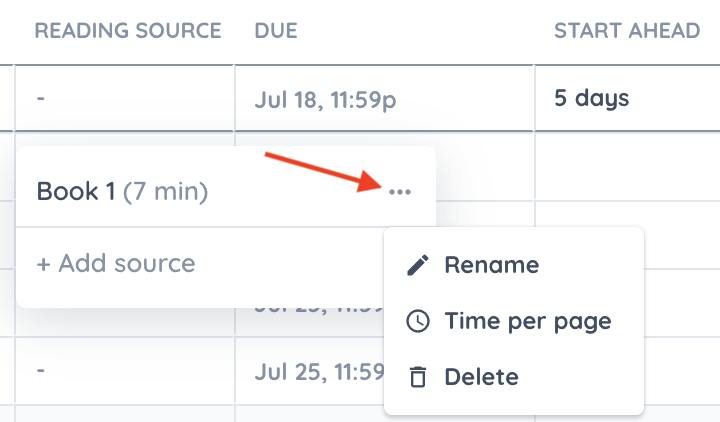 ---
HOW TO LINK GOOGLE CALENDAR TO A COURSE IF YOU ALREADY HAVE AN EXISTING TERM IN SHOVEL
If you already added your courses to Shovel manually, you can still link a Google Calendar to each course in Shovel.
Click the 3 dots when you hover over course in the left sidebar.
Select "Link Google Cal." and follow the steps.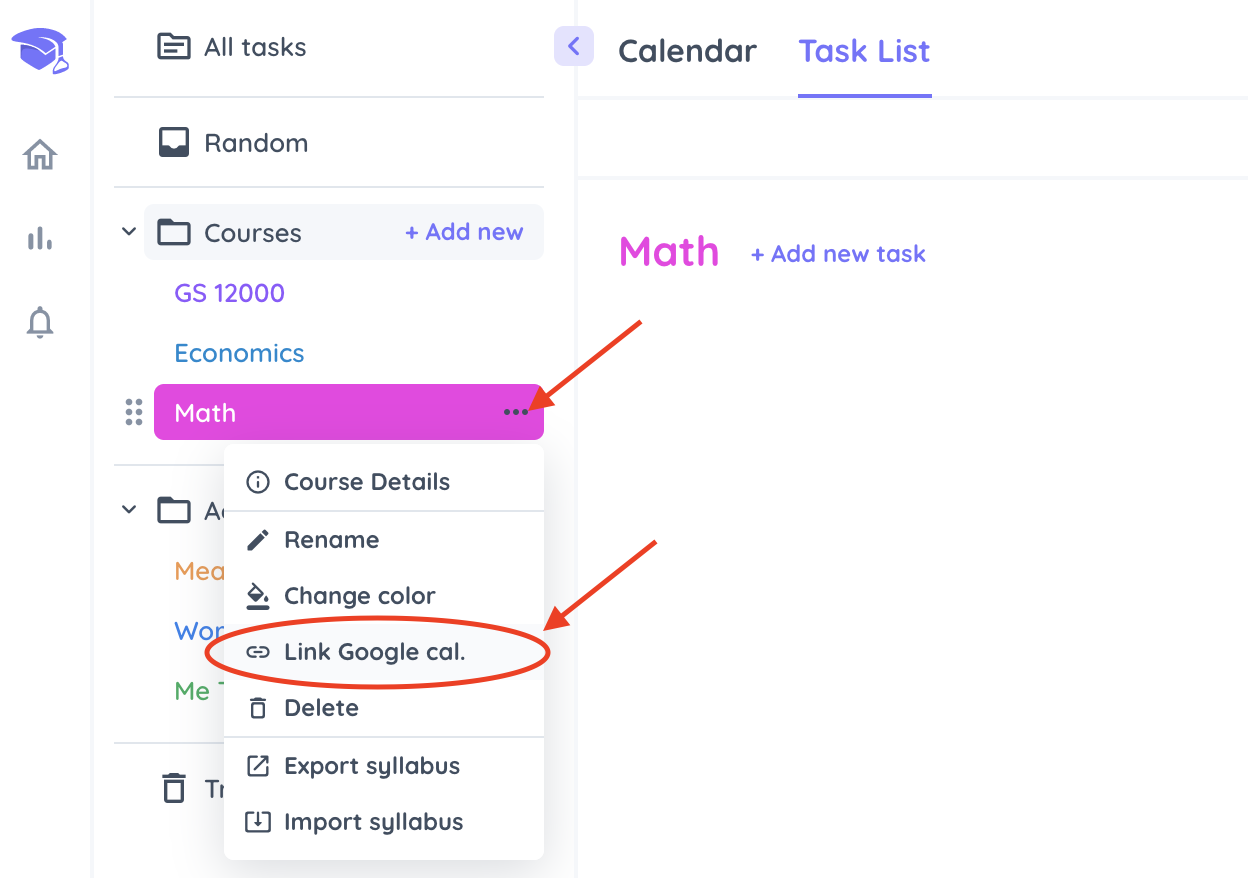 TROUBLESHOOTING:
If you do not see your added Google Calendar (specific course) that you just added to your Google Account, your Google Account may not have synced with Shovel yet.
How To Sync Google Calendar
Navigate to Calendar
Find Google Calendar at the bottom of the left sidebar
Hover over it
Click the "Sync" button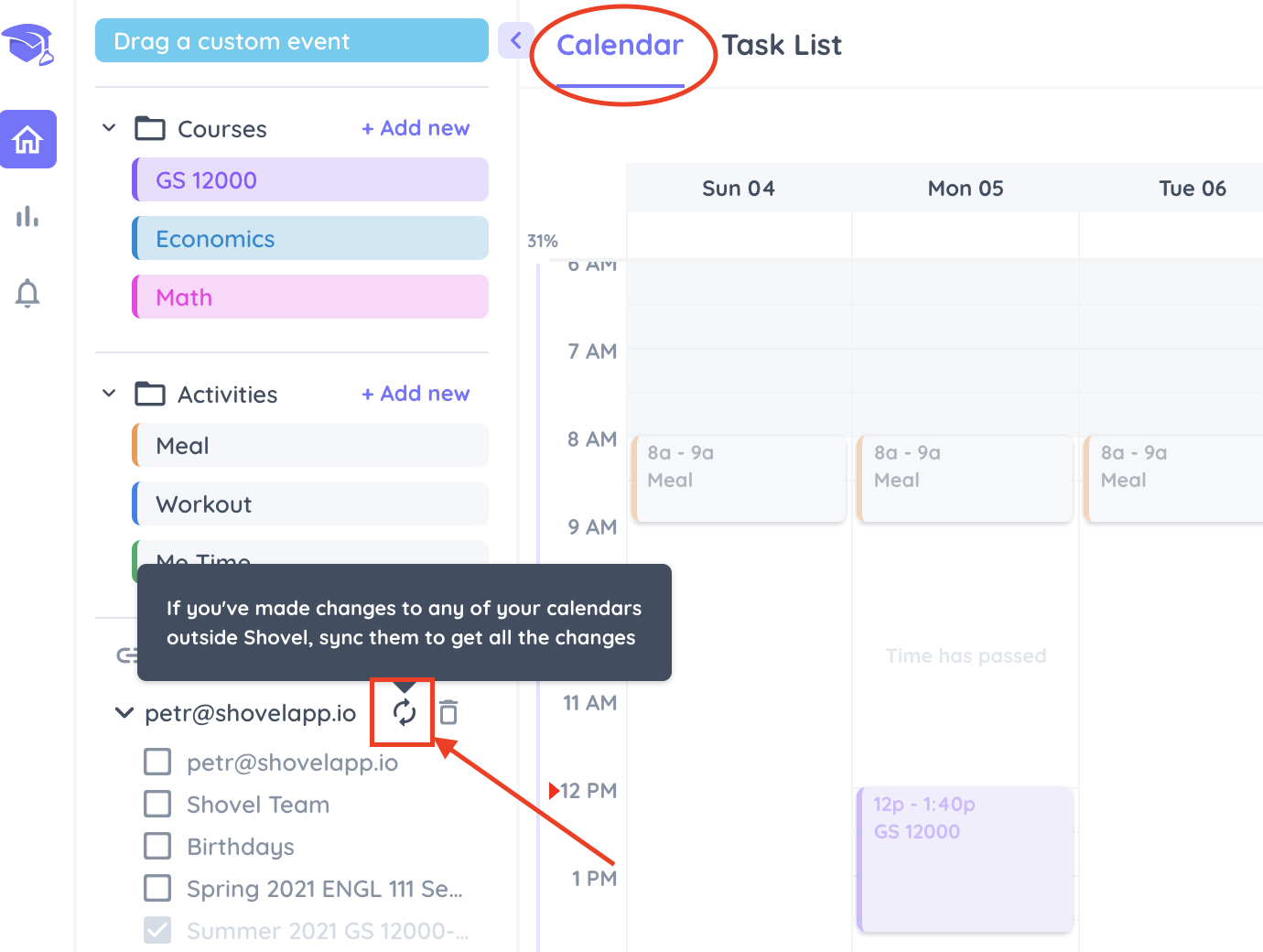 RESTORING TASKS
If you link a Google Calendar to a course and then unlink it, all your tasks that were imported from Google Calendar will be moved to the Trash. If you link the course to the same Google Calendar again, you will be able to restore them from the Trash.
If you have any questions that we did not answer, please contact us in the chat in the bottom right corner. We'll usually answer within a few minutes.